Find support and resources for living with Parkinson's disease
Support groups that are dedicated to progress
After receiving a diagnosis of Parkinson's disease, it's easy to feel like no one else knows what you're going through. These organizations have made it their mission to connect people who have Parkinson's disease, while also providing helpful resources for both you and your family.
Parkinson's Foundation
Strives to make life better for people with Parkinson's disease by improving care and advancing research
Visit the site
American Parkinson Disease Association
Providing support, education, and research to help everyone impacted by Parkinson's disease live life to the fullest
Visit the site
Michael J. Fox Foundation
On a mission to accelerate the next generation of Parkinson's treatments through an aggressively funded research agenda
Visit the site
Resources to help you during your time on DHIVY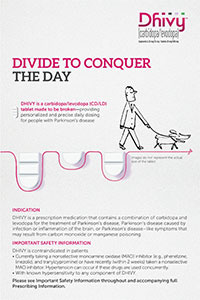 DHIVY Brochure
Learn more about DHIVY and how it was designed to provide personalized daily dosing.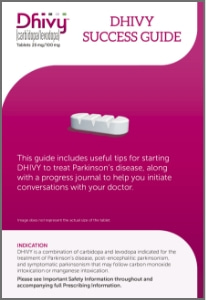 Success Guide
Just starting DHIVY? Find tips to help you make the most of your time on treatment.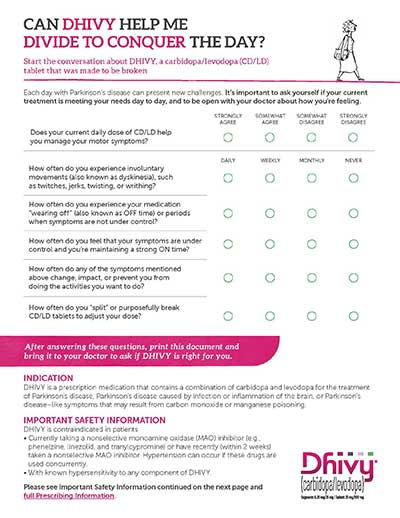 Doctor Discussion Guide
Unsure if DHIVY is right for you? Start the conversation with your doctor by using these questions at your next appointment.

Stay up to date on DHIVY
Get exclusive access to resources and tips to
help you throughout your time on DHIVY.
Image does not represent the actual size of the tablet.